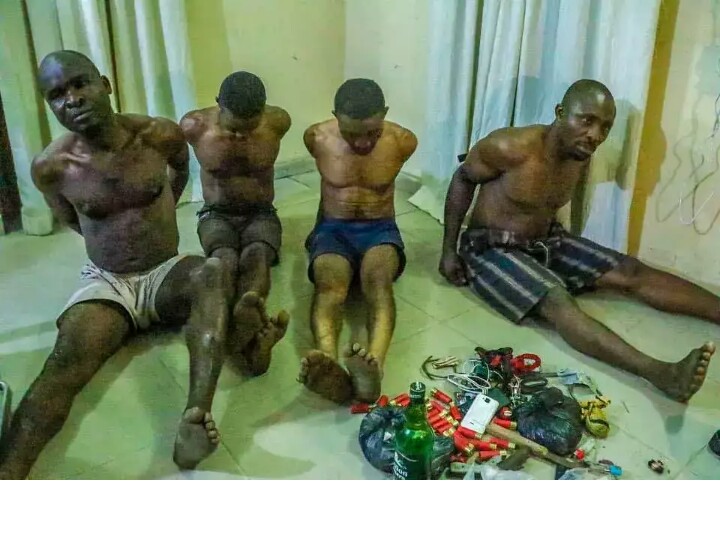 The heat is still on,,,Read to the End
Some hoodlums who were hired by politicians in Akwa Ibom state to unleash mayhem during last Saturday's postponed Presidential andNational Assembly elections – have been moved to the Police Headquarters in Abuja for interrogation.
This is as the sponsors of the violence may have gone underground to evade Police arrest even as the Police have vowed to redouble their efforts and track them down to explain their roles in the burning of vehicles which conveyed electoral officials and materials.
Top police sources said three key members of the Akwa Ibom government, have been linked to the mayhem that was meted out on the people of Obot Akara Local Government Area of the state on the eve of the rescheduled presidential election.
According to confessional statements made to the Police by some of the thugs at the Police Area Command in Ikot Ekpene on Saturday, the hoodlums have indicted three top officials who are wanted to shed more light on their roles in sponsoring militants .
The mayhem, which left four people dead and vehicles completely burnt on the eve of the rescheduled presidential election in the council was carried out by hoodlums imported into the state by three top officials who are indigenes of the senatorial district.
The Police in Akwa Ibom state had arrested over 400 thugs and militants imported into the state by chieftains of the Peoples Democratic Party to assist them in ballot box snatching and intimidation of voters.
Parading the suspects at the Police Area Command in Ikot Ekpene a Police man who pleaded not to be named, disclosed to newsmen that the hoodlums were rounded up at Nto Ndang, Obot Akara after they got hint of their activities at the INEC office.
The Inspector General of Police, Mr Mohammed Adamu is said to have ordered a crack down on perpetrators of election violence and their sponsors. We gathered that those arrested with arms would be treated as terrorists and would be eventually arraigned in court.